Who is your favorite to win the Super Bowl? Honestly, I could care less about football but I don't mind the snacks that go along with the beer drinking and couch sitting that occurs while watching the game. In preparation for my next installment of What Micky Eats...
At Home
, I want to highlight some twists on the classic Super Bowl Snacks that we are considering to make. I encourage you all to check out these recipes as well for your game day party menu.
Keith had the creative idea to make snacks from the cities to honor the two teams competing in Super Bowl XLVI. So we did some research and below are the top contenders for our game day menu. Stay tuned for my follow-up post on Sunday with actual recipes and pictures of the items we made for our Super Bowl Snacks. I'm sure it will be quite an adventure in our kitchen this weekend.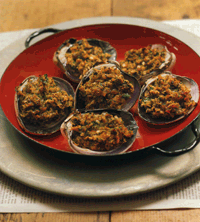 New England:
White Clam Pizza
- to showcase the "apizza" style renown in Connecticut (even though New England is considered a Boston team - we took liberties with the "New England" theme, m'kay?)
Baked Stuffed Quahogs
- quahogs are a hard shelled clam popular in New England.
Buffalo Chicken Cheese Dip
- apparently cheese dip is a traditional New England holiday treat. I thought this recipe was a nice twist for game day fare.
New York:
Meatball Sliders
- I think we will do a variation on this using Micky-friendly ground turkey instead.
Sausage and Peppers
- put on a sandwich roll and these crowd pleasing babies are easy to make.
Caprese Antipasticks
- another super easy fun finger food that is almost like a salad on a stick.
What other menu items do you have planned for this Super Bowl Sunday? And is anyone else excited to see Madonna perform at the half-time show? (She is a legend after all.)
Remember to stay tuned for my follow-up post of What Micky Eats...
At Home
.