Ristorante Piccolo is an award-winning romantic Italian restaurant with a history of being the perfect spot for first dates and marriage proposals, also offering one of the best seats in historic Georgetown - a second-floor balcony overlooking Georgetown and the historic C&O Canal.
Piccolo offers lively, fresh and seasonal rustic Italian fare, with hand-rolled pastas, exquisite meats, fish and seafood dishes, daily specials and enticing desserts. Closest Metro is Foggy Bottom.
As one of the Ambassadors for Take A Bite Out of Breast Cancer, a Pink Jams event that is in support of breast cancer awareness, I had the opportunity to "sponsor" Ristorante Piccolo tonight during their dinner service. Along with the event's Chairwoman, Lisa Shapiro of Dining in DC, I invited my readers, family, and friends to join me for dinner in historic Georgetown and "take a bite" out of breast cancer! 25% of all dinner and liquor sales from tonight will go towards Pink Jams.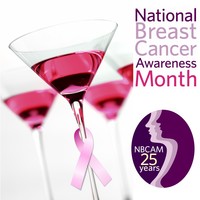 In addition, throughout the entire month Ristorante Piccolo will be featuring a "pink" appetizer - Gamberi Rosa, which are sauteed tiger shrimp and roasted peppers with garlic in a light pink sauce and a "pink" cocktail - Pink Slipper, that is a concoction of raspberry Stoli, house made strawberry grappa, a touch of grenadine, and triple sec. $1 from each sale of these specialty "pink" items will be contributed to Pink Jams throughout October.
We arrived a little early on this dreary, rainy, Wednesday evening. The lovely hostess showed us to a quaint table in the front next to the window. Piccolo seems to run several specials, as they had menus for "Dinner & A Movie", a $50 3 course meal for two that includes 2 AMC movie tickets, as well as a "Sunset Special", a $18 3 course meal with limited choices. Our server was very polite and gave us the appropriate amount of time to peruse the menu. Knowing ahead of time about the specialty breast cancer awareness items, I inquired on those and decided to order the appetizer for the table as well as the pink martini for myself and my mother. We also ordered an antipasti platter to share. The pink shrimp special was very tasty, loaded with tomatoes, garlic, and roasted red peppers. I even used my fresh bread to scoop up the left over sauce. For our main entrees, I ordered the award-winning porcini agnoloti, Keith ordered the seafood risotto (a little salty), my mother ordered the seafood spaghetti (not spicy enough for her tastes), and my father ordered veal parmigiana (very traditional). All the portions were quite generous, except for mine. But I suppose that was to be expected, due to the porcini mushrooms and black truffle oil. Surprisingly, everyone finished their meals and still had room for dessert. Since my mother had splurged on the pink martini, she skipped her usual cappuccino, but still wanted her ultimate favorite - tiramisu. The server probably sensed my mother's enthusiam and brought her the largest piece ever! Keith and my father shared the ricotta cheesecake. All in all, the meal and service at Piccolo was decent. Not quite 5 star levels, but still a nice little restaurant in Georgetown that I would recommend to others for a first date or other romantic evening.
I want to especially thank my family and friends who came out in support of this great cause - and to all the readers who came out too! I hope you enjoyed your meal as much as I did. If you missed me tonight, I will also be at
Todd Gray's Watershed in NOMA on Oct 23rd.
Total Rating:

4
Food: 4, Price: 4, Service: 4, Ambience: 4, Accessibility: 4
What I ate:
Gamberi Rosa
sauteed tiger shrimp and roasted peppers with garlic in a light pink sauce
Agnolotti ai Porcini
hand-rolled fresh ravioli filled with porcini mushrooms and lightly sauteed with
fresh sage leaves and butter, sprinkled with black truffle oil
Tiramisu
housemade classic ladyfinger sponge cake soaked in espresso,
layered with a mascarpone mousse
Plus Keith ate:
Piccolo Antipasti
a rustic Italian cured meat platter of aged Prosciutto di Parma, Salami,
Soppressata,
marinated roasted peppers, olives and Pecorino cheese
i
mported Arborio rice sauteed and simmered with shrimp, mussels,
sea scallops,
baby clams, fish broth, saffron and a touch of tomato sauce
made with fluffy ricotta cheese, drizzled with a raspberry sauce