Last year, Keith had the creative idea to make
snacks from the cities
to honor the two teams competing in Super Bowl XLVI. It was a huge success, so we decided to continue the tradition this year for Super Bowl XLVII. In preparation for my next installment of What Micky Eats...
At Home
, I want to highlight some twists on the classic Super Bowl Snacks that we are considering to make. We did a little research and below are a few ideas - I encourage you all to check out these recipes as well for your game day party menu. Stay tuned for my follow-up post on Sunday with actual recipes and pictures of the items we made for our Super Bowl Snacks. I'm sure it will be quite an adventure in our kitchen this weekend.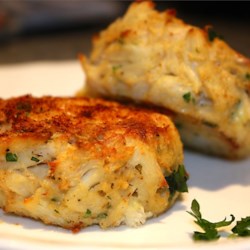 Baltimore:
Crab Cakes
- Maryland is famous for it's crab cakes - lots of jumbo lump crab meat and Old Bay seasoning.
Pit Beef
- This highly unusual sandwich features grilled barbecue beef sliced really thin and served with a horseradish topping stuffed inside a Kaiser roll.
Lady Baltimore Cake
- a Southern specialty with many variations, this mountainous cake is a white cake topped with a boiled or "Seven Minute Frosting." What makes the cake so distinctive is the combination of chopped nuts and dried or candied fruits in its frosting.
San Francisco:
Cioppino
- Loaded with fish chunks, shrimp, scallops, and clams in a fragrant tomato broth, this "fisherman's stew" is super traditional.
Summer Rolls
- Vietnamese food is very popular in San Fran and this light roll is a perfect handheld treat to watch the game.
Sourdough Bread
- If you are adventurous to make your own bread, make this San Fran staple and serve along side the seafood stew or chop it up to dip into your favorite spreads.
For other easy game day recipes, try these:
What other menu items do you have planned for this Super Bowl Sunday?
Remember to stay tuned for my follow-up post of What Micky Eats...
At Home
.